---
Antique Beer Photos: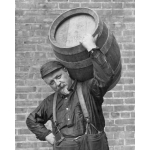 Dozens of prints available in a variety of sizes up to 40x50.

Beer History Slide Show: For the Love of Beer



Image 9 of 10
Saloon on the Range -- The dusty trail can build a mighty thirst. Thank heavens for this oasis in Birney, Montana. Note the Pabst and Budweiser signs.