---
Antique Beer Photos: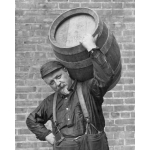 Dozens of prints available in a variety of sizes up to 40x50.

Beer History Slide Show:
Prohibition — The Noble Experiment



Image 3 of 10
Fresher The Better -- During Prohibition, many breweries were forced to make "near beer" to survive. The brewmaster at Pilsener Brewery, Cleveland, draws a glass of not-yet-de-alcoholized near beer in 1932.