---
Antique Beer Photos: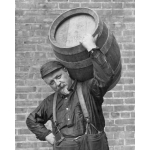 Dozens of prints available in a variety of sizes up to 40x50.

Beer History Slide Show:
Prohibition — The Noble Experiment



Image 5 of 10
True Love -- A little girl hugs a giant bottle of Pabst's Malt Extract. Though Milwaukee's Pabst Brewing Company started making it's popular Pabst Malt Extract in the late 1800s, such products became a common alternative for brewers during Prohibition.