---
Antique Beer Photos: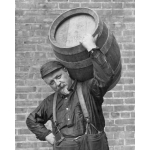 Dozens of prints available in a variety of sizes up to 40x50.

Beer History Slide Show:
Prohibition — The Noble Experiment



Image 9 of 10
Lonely Kettle -- Photographed in 1932, Lonely Kettle has waited 12 long years to make beer again. Someone has scratched the barely visible plea "We Want Beer" on the side of Lonely Kettle. From the Fishel Brewing Company (later Cleveland-Sandusky Brewing Co.) Cleveland, Ohio.