[an error occurred while processing this directive]

---
Antique Beer Photos:



Dozens of prints available in a variety of sizes up to 40x50.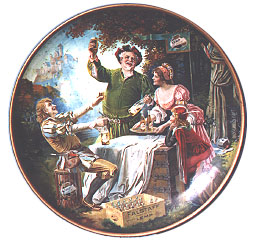 THE LEMP CHARGERS.
By Donald Roussin & Kevin Kious (618-346-2634)

Today, the term "charger" brings to the minds of most breweriana collectors the concave metal advertising trays which became popular after the lithography onto metal process was perfected over a century ago. The derivation of the term "charger" actually pre-dates the invention of the lithography onto metal technology, and was coined in the 1840's to describe a new type of large, mass produced metal serving tray. The original chargers were used in kitchens and dining rooms as meat platters that, because they were bowed in the middle, could also hold gravy without spilling, which helped to keep the main dish hot until it was consumed. When American Art and its competitors starting producing lithographed art on this shape of tray in the 1890's, the new form of advertising was quickly nicknamed a charger by tavern patrons, after the earlier kitchen platters, and the moniker stuck. The William J. Lemp Brewing Company distributed six different charger designs with a diameter of 24,' and two with a 16' diameter. The first of the larger size were manufactured in the early 1900's, with new designs to the set added every 2 or 3 years over a fifteen-year period. Apparently, the production run on every new design to the set was increased, as the newer issues are fairly common, while the oldest ones are rarely seen. The two 16" diameter chargers, one featuring Sir John Falstaff, the second, a buxom young lady toasting with a glass of Lemp beer, were both issued in 1907.
The particular example of the 1917 Lemp charger pictured here, ("lady pouring Sir John a Falstaff beer"), continued to advertise Falstaff even after the Lemp brewery closed. When 'Papa' Joe Griesedieck purchased the Falstaff trade name from William J. Lemp, Jr., the former also received a quantity of Lemp Falstaff advertising, in the form of sand puzzles, tin signs, and chargers as part of the transaction. As illustrated in this charger, the Falstaff Corporation "recycled" this trove of Lemp Falstaff advertising by blocking out the "Lemp" references with white paint, and stenciling in the "Falstaff" name as space permitted. In the late 1960's, the Falstaff Brewing Corporation capitalized on its Lemp Falstaff heritage by creating replicas of several of the Lemp chargers. The Falstaff re-issues were created utilizing new artwork, and though attractive, pale in comparison to the vibrant colors and crisp details found on the Lemp originals.
---

... Back to Lemp Article