Why Milwaukee?

For much of its history, Milwaukee was touted as the "beer capital of the world." And, indeed, the city has been home to some of America's largest brewers -- Pabst, Schlitz, Miller, Blatz. But was it Milwaukee that made these brewers great, or was it the great brewers that made Milwaukee?
In attempting to answer this question, brewing industry historians have drawn some interesting conclusions:
Milwaukee did not enjoy any significant advantages as concerned the price or availability of raw materials such as hops and barley.
Labor was not noticeably cheaper in Milwaukee than most other brewing cities.
Milwaukee's water supply did not offer any special advantages for brewing. The nineteenth century myth that Milwaukee water produced a superior brew was debunked by early chemists.
There were no particular advantages associated with transportation of freight in or out of Milwaukee.
Although cooperage (barrels, vats, casks, etc.) was inexpensive in Milwaukee due to the large Wisconsin lumber trade, the savings were not significant enough to provide a major advantage. And anyway, the Milwaukee brewers consumed so many beer barrels that they were often forced to buy them from suppliers outside Wisconsin, thus incurring transportation costs. In fact, frequent barrel shortages in Milwaukee finally compelled the Pabst and Schlitz breweries to join forces and establish the Delta Cooperage Company to secure a constant supply of barrels.
Cheap, abundant ice from Lake Michigan certainly favored brewing before the advent of artificial refrigeration. Ice also stimulated long-distance shipping of beer, since rail cars needed to be packed with enormous quantities of ice to prevent spoilage of the beer en route. But all Great Lakes cities -- Detroit, Chicago, Cleveland, etc. -- also enjoyed the same advantages. Thus, Milwaukee's ice supply can not alone be credited with the developing city's brewing prowess.
What, then, caused Milwaukee to become the "brewing capital of the world?"
The best answer is that it was a combination of a diverse set of factors:
1) Conditions in Milwaukee were just as favorable for beer-making as they were in most major cities. Yet, compared to many nineteenth century brewing centers, Milwaukee's population -- and that of its outlying regions -- was relatively small. Thus, Milwaukee brewers were forced to turn to outside markets to expand sales. This unique problem ultimately transformed Milwaukee's breweries into "nationally-minded" organizations. Once begun, the strategy of long-distance shipping did not cease for Milwaukee's brewers until their beer was being sold in every corner of America.
2) Proximity to the large beer-consuming population of Chicago -- and the easy and inexpensive lake transportation thereto -- was always a boon to Milwaukee's brewing industry. For example, the Great Chicago Fire of 1871 boosted sales of Milwaukee breweries enormously. Schlitz's frequent shipments of beer to the devastated city earned it the slogan, "The Beer That Made Milwaukee Famous." Schlitz enjoyed a 100 percent jump in sales immediately after the Chicago fire.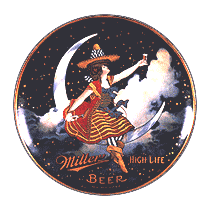 3) There is no question that certain of Milwaukee's brewers were extraordinarily talented businessmen. While their particular circumstances may have accidentally lead them to aspire to greater markets than most brewers, it can not be denied that the men behind the breweries were savvy, aggressive industrialists. And much of their success was achieved through vision, hard work and sound business sense.
So, in the end, Milwaukee's status as one of the greatest brewing centers in America was a result both of the special characteristics of the city and the aggressive business styles of many of its brewers.
C.H.M.

(Adapted from a discussion in Thomas C. Cochran's The Pabst Brewing Company: History of an American Business, 1948.)