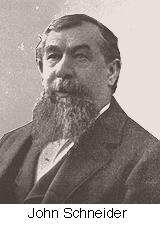 Diary of a 19th Century Brewmaster
Sometime around 1905, an elderly John Schneider wrote a brief account of his lifetime of travels as a journeyman brewmaster. Although his story is probably not too different from the hundreds of other brewers who plied their trade in the mid- to late-19th Century, reading the story in Schneider's own humble, matter-of-fact words gives a unique sense of the trials and tribulations of the typical German-American immigrant.
Autobiography of John Schneider:
John Schneider born in Stadelhofen on May 16, 1833. Family registry Scheslitz in Oberfranken, Bavaria. Went to school for the first time on May 1, 1839. Left the workday school 1845. Attended Sunday school until 1851.
In 1852 Ash Wednesday on February 12 I left my parents for America with 4 comrades. Arrived by way of Leibzig in Bremen on 16 February. We embarked from Bremerhafen on March 1st. Arrived in Castle Garden in New York on 20 March, 1852.
Worked in New York until 1 June 1852. In NY I earned 7 dollars and boarded in the Max Schaefer brewery. [Read about the Schaefer Brewery]
On 3 June 1852, we 4 comrades traveled from New York headed for Buffalo, but before we left, I wanted to buy groceries and while I was gone, the ship sailed. They set my bag out and I remained behind and we were separated from each other.
I changed my trip plan and went to Cincinnatti. Travelled via Dunkirk to Cleveland Ohio.
Arrived in Cleveland on Pentacost Sunday; lodged in Wilhelm Tell House; stayed here only a week, but couldn't find work.
Cleveland was a small city with 15 000 inhabitants, over the river Ohio City was more beautiful than Cleveland; both cities together had about 30 000 inhabitants.
From here I traveled to Cincinnatti; visited a friend and relatives. Still had enough money and work; didn't do much before my money ran out.
On the first of August 1852 an old friend of my parents got me a job in the Wahluthzhiel [Walnut Hill] Brewery under Franz Eichenlaube; work again 7 dollars and board.
My work was hauling water, helping mash, and whatever needed to be done in the brewery; I had to do this for a year, then it was my turn, and I could work then in the brewery for 9 dollars. The waterworks was unknown in many cities ; from 1854 on I took work in various breweries and earned more. 1854 the Knownothings made the first trouble for us Germans where I was involved and it cost many people's lives.
Cincinnatti on 2nd April, 24th July Covington, 6th August Louisville, Ky., where I didn't have anything to eat for three days. The Knownothings burned down our brewery and my clothes were lost along with it. There I was without money or clothes. My boss Peter Adolf owed me 30 dollars; gave me 5 dollars, said he didn't have any more himself.
Went without clothes with 5 dollars to Saint Louis. The trip was 2.50, left me 2.50, but the Germans were united and I got a boardinghouse in St. Louis; paid 2 dollars, left me 50 cts. and to my misfortune caught the cold fever, had to go into City Hospital, was there 4 weeks. There I thought I would never come out alive, I saw how they carried the dead out every day.
But God doesn't ever desert a German; I found a Brewer's son from Eulenbach, a fellow countryman, in the hospital, who told me not to take any of the medicine the doctor gave me; I will give you this for the fever. Got well again, went back to my old quarters, but no clothes; so I met a Brewer from Cincinnatti who didn't remember me any more, name of Kreutzer, and he bought me a full suit and I had to work 4 weeks as a barkeeper in my boarding house.
Now I was better again; I got work through the boardinghouse keeper Laipold in Winkelmeyers Brewery. Worked there for a month but couldn't keep it up, had to quit because I was still too weak from the cold fever. Went back to Laipold, worked another week as barkeeper. Mr. Laipold had his beer from Winkelmeyer and they saw to it that I got work in Busch Malthouse. Worked two months in the malt house, and one morning while I was waiting to eat my morning meal a cooper master from Wittenburg, Missouri came into the dining room and asked for the brewer John Schneider; he wanted me for a brewmaster on Winkelmeyer's recommendation and made contract with him for 50 dollars and board; he was new and I helped him order 12 barrels. I was there 1 year and it was too small for me and I taught my boss Trumard to make the beer. Gave me 50 dollars and I went back to Cincinnatti; started up again at Eichenlaube Brewery for 27 dollars and board.
We were 250 brewers in the city and founded the Gambrinus Support Association and demanded 30 dollars per month, which the bosses didn't agree to, and we went on strike. Business was good; left Eichenlaube. Went to Moerlein's Brewery, only there was another strike, so I left soon and went to Herancourt's Brewery, from there to the Jackson Brewery as maltser and got 3 dollars more wage here. I got married on February 21, 1857, when I had been married three months we were all boarding at Kl..[illegible] and he wanted to take three dollars out of my pay when I wanted to eat at home; I didn't say anything, let him deduct the money, and ate at home.
On 4th July we had a half day off and I went into Koehlers Brewery to fence bungs. The Foreman asked me whether I had work; I said yes but if he had work I would come and I began on the 5th in Koehlers; from here I was called to Schaller and Schiff's Brewery as maltser.
In 1859 I began the first common beer brewery with John Neu in Ripley, Ohio. 50 barrel vat; we did good business in Summer; 6-7 batches a week until 1861. The war broke out in Summer 1861. We brewed one batch a week; this didn't last; my partner had many children, all little. So I said to him in September, he should buy me out and I would go into the army. At first he didn't want to, said he didn't have any money. I said I didn't need any money, he should pay my wife and so it turned out I went with 4 young people to Saint Louis to the Turner Regiment 17th Mo Vol (Missouri Volunteers) USA.
Our regiment left Saint Louis on 26 October 1861 and arrived on 26 October 1864 from Atlanta, Georgia back home in Saint Louis. We were in 24 battles. I and all my comrades hadn't had any house to sleep inside. We had some good times, but more bad ones and suffered hunger.
Comment on our regiment: most of them were Turners [members of the Turnverein, presumably] from all the states, 2 from South Carolina. All were Germans; left 1000 men strong, returned back home with 350 able-bodied men.
In December 1853, I went from Ripley, Ohio to Cincinnatti and with Goepper's help became Foreman in Geisbauer Brewery in Covington, Kentucky. Was there 1 1/2 years and went to Nashville, Tennessee with Goepper's help as Foreman for Stiefel & Pfeiffer; I was here until 1870.
___________________
From Nashville I went back and built the second brewery with Louis Reinert. I was partner here for 1 1/2 years and sold out again to Reinert. He was too smart for me. From here I went back to Cincinnatti, but when I arrived the Brewer F. Haltnorth was waiting for me. I went with him straight to Cleveland and replaced Wm. Oppmann [as brewmaster], who had a fine bad beer.
Within 10 days in the Haltnorth brewery I had everything in order. We made the best customers with Oppmann's beer. His cellars were all too warm. I got plenty of ice, cooled one cellar down slowly from 55 to 34 degrees. Got 200 dollars per month and Haltnorth promised to make me a partner at the New Year, but the Brewers' Convention was in June and Leisy bought out the brewery from Haltnorth for 200,000 dollars and Haltnorth made me and his son Robert partners in the Umbsteater Malt House, which was rented to us for 5 years. Haltnorth went to Germany.
I and the young man ran the Malt House and had mostly good business. The first year made 5000 dollars free, and but in the second year barley was expensive 1.75 per bushel and I went around in the whole city and bought barley. Was gone a week and when I came home, the young guy had taken off with all [our] money. I went around and collected money and kept the Malt House going until the old man came back. Worked on til the end of the year and had lost every dollar when I left.
I went back to Monroeville [Ohio] to the Prentiss Ale Brewery without a dollar and had work and money again.
1875
Things were cooking again with Prentiss in Monroeville, but Prentiss ran for Congress. He wasn't elected and consequently he went bankrupt and the receiver wanted to keep me. I made Felix Steinle foreman and went to Pittsburgh to Gangwisch's Brewery; was there 1/2 years and he went bankrupt.
On 17th March in Pittsburgh August Borger from Cincinnatti came, sent to Pittsburgh by Mrs. Schmidt from Indianapolis and made a contract with me for 4000 dollars per year; I was here for 3 years and Mrs. Schmidt died.
Now things were all messed up again. The sons were not yet of age. An administrator took over and my good times were over again.
___________________
Then my Jacobi came from Toledo and made me a good offer and I went to Toledo. The Buckeye Brewery was going to the dogs again; sold 12000 barrels of beer. Everything was out of what because the administrator had bought everything double but not completely, so I went to work and everything went fine. But, in the next batch of beer I brewed, my old friends threw fermenting agent for linberger cheese in the fermenting vat. If that wasn't a headache.
1880 In Buckeye Brewery
The Brewery was selling 12000 barrels of beer when I started to work. Sold 36000 barrels in my first year.
1881 on 6th March, a fine Saturday, very warm. Was with the carpenter at the brewery. Good day he said Schneider, I never saw such a fine day; it was 3:00 in the afternoon, said yes, looked into the west and saw a little cloud -- the lightning flew fast -- I told him that we would get a big storm; he laughed and asked where it was supposed to come from.
During the night about 12:00 the storm came; knocked the chimney over on the engine house, struck two policemen dead and buried the watchmen, knocked down the mash vat, knocked over the boiler.
I had one boiler, a runover vat and a hot water reserve vat. What to do now? It was a sorry sight -- no air, everything dark when I helped the policemen half alive out of the hot rubble. The second one was weak. The man: Schneider, give me a drink of water and greet my wife and children and he died right after that.
Then it was day. My boss Denies Coghlin came. Schneider, now we are lost. I: Oh, no, go right away to the breweries and see that we get groats. Was already in the three breweries and none of them gave us groats. Now we are lost he said again. No, now Coghlin go to the stall and get 4 of the best horses and the best Bucky horse.
The engineer and a good darkie: yes what to do? Get the threshing machine we sent out last week to spread ice.
And we went and got 4-6 people to clear away the rubble and get the door open so that I could bring the machine into the brewery. Don't be scared Coghlin, just work, and saw everything. About 4 o'clock my savior the machine. This was Thursday 6 March. Night Friday 7 March cleaned up. Saturday 8, I had another batch of beer done.
I made the chimney which had broken in half taller by setting barrel bungs on the chimney and binding with iron hoops and shoring it up inside with brick and this is how I brewed every day from 8 March until the 20th. of May.
On the 20th. of May the chimney was finished. The mash vat, mash machine, boiler -- and I brewed two batches of beer every day. Then Coghlin came and said Schneider can't you brew more? You'll get 20 dollars for every beer you make. I've given the boilerman 10 dollars. I laughed and said to Coghlin you don't want to kill me, so I got started and brewed day and night. Made up a temporary bed in the boilerhouse; after it was over got all the wine to drink and cigars I wanted and we had sold 50 000 barrels of beer by New Years. I was the greatest master in Toledo.
I was here until 1883. Then I made my trip to Germany. I ended up with Marek again and was supposed to go to Buckeye, but didn't because I had had a falling out with the new boss Jacobi.
At this point the Brewer John Wahl from Monroe, Wisconsin, who had a fine, bad beer, came with the request that I come only for 1-2 months; he would pay me as much as he could. At the request of my wife I went and got everything in order and the 1-2 months turned out to be 6 months. This business was too small, but I was treated like the Lord God himself.
So on the 1st of October, 1883, Mr. Fasnacht from Wheeling came to me and offered me 4000 dollars to come with him at the Schmulbach Brewing Company, but again Woe is me, when I got there there were 7000 - 10000 barrels of beer there, and not one good drop to drink. I would have gladly pushed off again if I hadn't been ashamed to.
I stayed there and within six weeks I had beer and had gained customers both inside and outside the city and I liked it there and my first wife was still living in Toledo. On October 19th, a Sunday, a beautiful day, I cleaned my clothes and stayed at home; on the 20th of October in the morning I got a dispatch that my wife was fatally ill.
1884
I put everything in order at the brewery and left for Toledo at 11:00. I arrived home at 7:00. My wife was sick, but it was getting better, so I stayed until Saturday, the 25th of October and got ready to leave. I spoke to my wife, went to the neighbors to say goodbye, all this within a half hour's time, went home, and found my wife had had a second stroke and she died a half hour later.
I telegraphed Wheeling of my misfortune, Schmulbach and Butterfield, my Maltser, also knew my wife Luise; I went back to Wheeling on the 1st of November and continued working.
On the 20th. of December, L. Schlather came to see me from Cleveland and said that I had to come to him as brewmaster and I signed a contract with him as an old friend. [See a picture of Schlather's Brewery] I started to work on the 6th of January. Everything went fine here. Schlather wanted to go to Germany in May and before he left we went through all the cellars and looked at the beer. There were still 20 000 barrels there from the brewmaster Russert; there was a new ice machine on contract. The small Linde 2 ice machine from Artick wasn't much. The hot weather came and the cellars heated up to 50 - 52 degrees and soon 3/4 year-old beer took on a yeasty taste and we had trouble. Fortunately I had already mentioned to Schlather ahead of time that this could happen if the ice machine gave out. I telegraphed Schlather to come here.
I had everything in order, however, by the time Schlather arrived. I let the old beer lie, worked on my beer, and everything was in good shape when he got home. I said that we still had 17 000 barrels of the old beer and he wanted to drain it out, but I told him to let it be, I would sell it along with the good beer. I worked on it every month and used 10 - 15 barrels to every 100 barrels. It took me two years before I had gotten rid of all of it.
Schlather's brewery was very poorly set up. The wash house was on Bridge Street. The filling cellar on Carrol Street made for a lot of very hard work.
The fermentation cellar was two cellars on the second floor, with the Spaenkeller in the ground floor domed cellar.
The lager cellar was on the 3rd floor. The beer had to be pumped from the boiler to the 4th floor. The lager cellar had earlier been an ice house; it had very good oak beams 19 inches wide and 4 inches thick, but had become dangerous because of the heavy load and now a number of them were broken. This was a five story building. I called Schlather's attention to the danger and explained that I would like to rebuild, taking out all the wood and putting in iron beams domed with brick. This meant that the fermentation vats and lager barrels would have to be gotten out of the way. Schlachter wanted to have the coopers break up the equipment. I said that this would be too much work, I would take down all the equipment and how would I do this I said I would have a winch built like the ones that are used for well holes, with a double gear and with a safety catch for 4 men to pull; I also asked if I could use Schlather's garden to store barrels and vats. There were 60 racks each 10 feet on the bottom and 15 feet high, as well as 60 fermentation vats. I got everything accepted and there was plenty of work to do around November 15 1891. The weather was very cold. The cellars were just Lathenr with four walls. We had to hold 4 Cockfeuer before we could work.
And on Saturday, June 11th, 1892 everything was finished. On Sunday, June 12 1892 we put the cooling unit in place where it still stands now. Now we had finished a major project on the brewery but the equipment was still being washed in Bridge Street and we were filling on Carrol Street and loading the wagons.
Now we had in one fell swoop gotten the brewery to be what a brewery should be. On July 24th 1895 we started digging the foundation for a new washhouse; scaffolding first in the cellar 35 feet wide by 105 feet long, everything fireproof at ground level.
Washhouse and driveway to the beer sales area third story washhouse. Big courtyard connected by an elevator from the lower to the upper filling cellars next door. Now we had cut the work in half and had a business.
I still had two large iron refrigeration vessels in the way; I got them out by lowering them 10 feet down onto the cellar roof, made a partition on both sides. This made a fine hop cellar; in addition I also used the plugs and cooling pipes.
At this point I had completely reorganized the brewery. After 10 years of work I had the brewery in a condition where it could be compared to any brewery.
At the second convention of the Brewery Owners of the USA the delegates from New York also came and Mr. Ehret's Brewery agent wanted that I should take on the position of brewmaster in the Ehret Brewery with a salary of 6000 dollars. I didn't have any reason to go away. I told this to Mr. Schlather and he said he couldn't hold me, but that he thought it would be better if I stayed here. He would improve things for me and this is what he did, too. At the New Year I got 5000 dollars and a Christmas gift of 500 dollars.
1895 - 1903
I got this every year and was my own boss. In 1902 Mr. Schlather wanted to turn the brewery into a stock company and he said to me that I was the first one who should have stock, but that he wouldn't take in just everybody. The Fachtthermanit Mars Wager [Schlather's son-in-law] was outside, but was very clever and worked on selling out to the C.S. Syndicate [the Cleveland & Sandusky Brewing Company] and he managed to close the deal; Schlather sold out to the Syndicate and I was out with my 35,000 dollars I had wanted to take in stock. This was in May 1903.
My contract ran until January 1, 1904. Mr. Schlather, however, had stipulated in the sale that I should remain on as brewmaster. It didn't appeal to me, however, and I told Mr. Schlather I would quit at the New Year and he was very unhappy and said that if it was too much work, I should take an assistant, but I didn't want to work for the syndicate.
And in July, I told Mr. Smith, the superintendent for CS, that I would quit in January.
And so I told Mr. Smith that I would take on a good brewmaster in my place. Is it Joseph Sieschka? That's just fine and I stayed until New Years together with Sieschka. Gave him 35 dollars every week but what a mistake I made. As soon as the man was in the saddle he did everything imaginable to me and my family and even swinishness in the brewers organization to me and other colleagues. He became a stranger to all his colleagues on account of this and it hurt him. He worried himself for three years, became ill, and died; the brewmasters organization and the masons buried him.
In 1904 I became a stockholder in the Standard Brewing Co. [of Cleveland], where I am now a director and 2nd president.


---

Learn more about John Schneider and the Cleveland brewing industry in the book, Breweries of Cleveland.