[an error occurred while processing this directive]

---
Antique Beer Photos:



Dozens of prints available in a variety of sizes up to 40x50.
The Traveling Billboards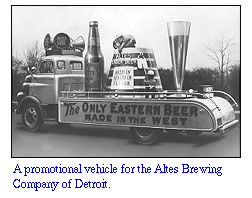 After the repeal of Prohibition in 1933, many breweries around the country employed multi-horse hitches and old-time beer wagons as promotional tools for use in parades, county fairs, and the like. However, the care, maintenance and transportation involved in using the hitches was often bothersome and expensive. Thus, many brewers soon traded in their horses and wagons for motorized display vehicles -- "traveling billboards." Far more cost-efficient, the motorized vehicles could whisk from one public appearance to another in a fraction of the time required by the horse and wagon displays.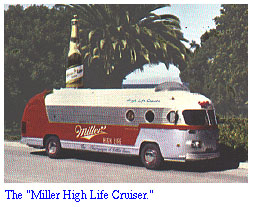 Then, too, the motorized trucks offered the opportunity for elaborate promotional content. The Miller Brewing Company of Milwaukee, for example, maintained a virtual mobile brewery which it named the "Miller High Life Cruiser." The 35-foot-long bus-like vehicle traveled the country educating consumers about beer and brewing. Visitors were guided through the interior of the Cruiser, where a series of animated displays demonstrated the brewing process. When the vehicle was parked, a 10-foot-high replica of the Miller High Life bottle was hydraulically raised through the roof of the bus.

But the birth of the mass media during the 1950s, and its rapid growth in subsequent decades, eventually spelled ruin for the traveling billboards. Television, radio, and national magazines offered brewers far more effective tools for promoting their brews. As did so many other traditions in brewing, the traveling billboards ultimately gave way to more modern means and methods.