[an error occurred while processing this directive]

---
Antique Beer Photos:



Dozens of prints available in a variety of sizes up to 40x50.
Below is an article which appeared in the July 19, 1998 edition of The New Philadelphia Times-Reporter.

Somethings Been Brewing -- Story of Local Breweries Being Retold.
By Ginny Adams.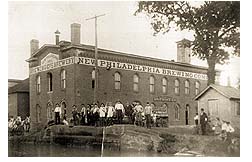 Something's brewing in the Tuscarawas Valley, or to be more correct, something was brewing about the turn of the century.

Fascinated with collecting beer cans from the age of 13, Dr. Robert A. Musson of Fairlawn has turned to researching the history of small local breweries which he calls "as commonplace as local dairies or bakeries.

Musson's research turned up five breweries at various times in Tuscarawas County, starting with the oldest one operating about 1820 by the Zoar Separatist Society. "The Zoar community had a brewery on the grounds from 1820 until 1898 when the society disbanded," he said.

From 1875 to 1890, Strasburg had a tiny brewery operated by Jacob Seikel according to Musson's research.

"Canal Dover had two, the Tuscarawas Valley Brewing Co. and the Bernhardt brewery," said Musson. "The Dover Brewing Co. lasted from 1856 to 1908 while the Tuscarawas Valley Brewing Co. operated from 1906 to 1914. Remnants of each of these still remain to this day, both within view of the river."

The brewery which operated the longest was the New Philadelphia Brewery, which originated in 1863. According to Musson, Michael Berer, a German immigrant, founded the small brewery along the banks of the Ohio Canal at 420 S. Broadway. "At various times, the area where the brewery was located was known as Blake's Mills, Blakesfield, Blackfield and Lockport, a reference to the canal," he said. "Local residents often referred to the plant as the 'South Side Brewery'. It officially became a part of the town around the turn of the century."

The location near the Ohio Canal made it easy to transport the brewery's products in both directions, he said. When it began, the plant had an annual capacity of 100 barrels and it grew very slightly over the next 10 years. "Contrary to local rumors, water for the brewing process came neither from the Ohio Canal nor from the Tuscarawas River, but actually from a pair of artesian wells at the brewery site," Musson said.

Among the 8,300 beer cans Musson collected are several with labels from local brands that were brewed over the years, including Lager, Export, Bohemian, Tuscora Near Beer, Seipro, Old Lockport Lager, Scotch Highland Ale, Schoenbrunn Pale, Black Jack Lager, John Bull Beer and Olde Vat Beer.

After a series of management changes and reorganization into a soft drink company during prohibition, the final effort to survive was beer shampoo produced in 1949. This consisted of beer which was de-alcoholized to less than 1 percent and de-carbonated, then mixed with detergent. "There was a great initial demand for the product, with over 1,000 cases per day being produced," he said. "However, it was only a passing fad, and by the end of 1949, the plant closed its doors forever and 86 years of brewing history came to an end."

In addition to Tuscarawas County, Coshocton had two small breweries between 1850 and 1870, including one in Roscoe Village. "Actually these were glorified home brewers," Musson said. In Holmes County, there was one started one mile north of Mlllersburg by a Frenchman, Pierre Meilleur," he said. "Later it was listed as owned by Peter Meier, so he may have changed his name to be more American."

Dover's Tuscarawas Valley Brewery near Wooster Ave. was basically put out of business within a couple of years of opening its doors when the county went dry. "Only 2-1/2 years after being in business, Tuscarawas (County) went dry with a local option about 1908," he said. "The county went wet again in 1912 but the brewery only lasted a couple of years."

Dover Brewing Co. along Front St. was established in 1856 and was later purchased by the Stark-Tuscarawas Brewing Co. in 1905.

"If any local families have information about the breweries, I would love to contact them," said Musson. His research will be included in a book detailing all of Eastern Ohio's breweries which number about 180.