The following is reproduced from a company brochure.

Yuengling of Pottsville:
America's Oldest Brewery.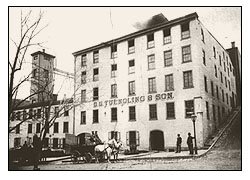 In spite of the demise of countless breweries throughout the country, Pennsylvania's popular Yuengling Brewery survives as a thriving business and historic treasure. It owes its ongoing success to the remarkable combination of pride and determination, tradition and innovation evidenced throughout its challenging history.
Nestled among the rolling Appalachian foothills, the D.G. Yuengling and Son Brewery is located in Pottsville, Schuylkill County, Pennsylvania. Today, the company proudly boasts an unmatched record of continuous operation since 1829 and the longest uninterrupted history of management by a single family in the country.
A History of Innovation
It was the year 1829 when Americans were getting used to their newly elected president, Andrew Jackson, that David G. Yuengling, an immigrant from Wurtemburg, Germany, settled in Pottsville, Pennsylvania, and started a brewery.
Originally named The Eagle Brewery, today the Yuengling Brewery is still identified with the qualities of strength and pride, symbolic of the American eagle. Each Yuengling label still bears the eagle trademark chosen by young David Yuengling so long ago.
Previously located on North Centre Street, current site of Pottsville's City Hall, the brewery was completely destroyed by fire after only two years of operation. A new brewery was then constructed on Mahantongo Street, where operations continue today.
David Yuengling's eldest son, David, Jr., eventually left Pottsville to establish a second brewery on the James River in Richmond, Virginia, appropriately naming it the James River Steam Brewery.
In 1873, when David Yuengling's second son, Frederick, joined his father as a partner in the original operation, the brewery name was changed to D.G. Yuengling and Son. In the early days, malt from Philadelphia was transported more than 100 miles to Pottsville by way of the Schuylkill Canal. The final brew was then delivered throughout the region by horse-drawn wagons.
Following the death of Frederick Yuengling in 1899, his only son, Frank, took the helm. He managed the business until 1963, a remarkable period of sixty-four years. During the late 1800's, two additional breweries were opened in New York, in Saratoga and New York City, and a fifth brewery was eventually opened in Trail, British Columbia. Over the course oftime, all of these breweries were consolidated into the original Pottsville operation because of its continued growth and promise.
The Prohibition Era
One of the more interesting facets of the company's colorful history was its innovative response to the ''Prohibition'' of alcohol legislated by Congress in 1919. Considered one of the greatest shakedowns in American brewing history, the restrictive period of Prohibition forced many breweries out of business.
Frank Yuengling believed the Prohibition would not last long and brewing ''real'' beer would eventually be legal again. The challenge facing Yuengling was how to stay in business until that day arrived. To survive Prohibition, Yuengling produced three different near-beers. The first was ''Yuengling Special'' -- their most popular near-beer brew. In addition, they introduced ''Yuengling Por-Tor,'' a take-off of their popular ''Celebrated Pottsville Porter.'' The third was the experiment with a unique brew which produced a cereal beverage called ''Yuengling Juvo.''
Yuengling attempted to increase the brewery's market share to include a wider range of consumers with this unique beverage designed to replenish their energy.
It was also during this period that Frank Yuengling constructed the Yuengling Dairy across the street from the brewery. The dairy provided ice cream and other dairy products to customers in Schuylkill and surrounding counties until business declined and it was closed in 1985.
In 1933 when the nation's breweries and disgruntled beer lovers finally won the fight against Prohibition, Yuengling introduced its symbolic Winner Beer, celebrating Prohibition's repeal, the brewery shipped a truck load of its popular brew to the White House to show their ''appreciation'' to President Roosevelt.
Soon after the repeal, Yuengling and Son embarked on an aggressive modernization program. Quite extensive, it included a new building for fermentation and storage, a new boiler house and brew house, as well as new loading facilities.
Guiding The Brewery Into Modern Times
With the death of Frank Yuengling in 1963, management transferred to his sons, Richard and F. Dohrman Yuengling. Business was slow in the 50's and 60's. A surge in the growth of national breweries and a decline in the local market threatened to break the brewery's long and proud record of continuous operation. Richard (Dick) Yuengling, Jr. credits its survival to the determination and hard work of his father and uncle, ''If it wasn't for their loyalty to the business during that very difficult time, the company wouldn't be here today.''
During the American Bicentennial in 1976, Yuengling and Son gained national media recognition. According to current president Dick Yuengling, ''It was the celebration of the Bicentennial that generated renewed interest in us.'' During this period, the brewery was placed on both the national and state historic registers and officially recognized as America's oldest brewery.
Serving as president until 1985, Richard Yuengling, Sr. continued the modernization, replacing copper kettles in the brew-house with stainless steel ones. After Richard, Sr. became ill, Dick Yuengling returned from his own successful beer distribution business to manage the brewery and deal with its sagging sales. Known for his aggressiveness, and not wanting to be remembered as the Yuengling who presided over the demise of the family's long-held business, he reinvested most of the company's earnings in updated equipment.
In order to maintain its competitiveness in the marketplace, Dick Yuengling persuaded Brewmaster Ray Norbert to develop additional beers. Over the next five years, the company added Premium Light Beer, Traditional Larger -- an amber beer -- and Yuengling's Original Black and Tan -- a unique blend of its Premium Beer and Dark Brewed Porter.
Under Dick's guidance the brewery has emerged from being a small regional brand to a rather unique entity. According to Dick, ''Changes we've made over the past few years are beginning to pay off for us. New packaging, increased advertising, and an exceptional distributor/wholesaler network have helped us capture the attention of consumers who are looking for a unique top-quality brew from a small brewer.''
Says David A. Casinelli, Vice President of Sales and Marketing, ''Over the past few years, we have made significant financial commitments to advertising. Our primary goal has always been to maintain our regional prominence while having the ability to expand into new urban markets.''
In the past few years the brewery has grown dramatically, with production increasing from 127,000 barrels in 1989 to over 360,000 barrels in 1996. When asked to what he attributes his phenomenal success, Casinelli states, ''There have been three key elements -- Dick Yuengling's aggressive commitment, an outstanding distribution network, and the quality of our products.''
Longevity seems to be commonplace at the brewery. Brewmaster Ray Norbert and his assistant James Buehler collectively have 80 years of service to Yuengling. In addition, the veteran office staff have a combined total of over 65 years of service to the brewery. Testimony to the loyalty of the local community, several father and son teams have worked for the brewery over its long and rich history. The high standards of everyone at Yuengling -- from Dick through Ray Norbert and all the long-time employees -- keep the emphasis on quality and consistency.
Moving forward boldly, Dick Yuengling has positioned the brewery to survive in today's marketplace, and is setting the stage for the next generation. In November of 1992 he began the largest expansion to date, building additional storage cellars which has helped increase production by 30%. He has four daughters and says they will be given the opportunity to take over management someday. ''I haven't read anywhere that a woman can't run a brewery,'' says Dick.
Throughout the brewery's 167-year history, the Yuengling family's determination and innovation have been the source of its ongoing success. In the words of current owner Dick Yuengling, ''The brewery is a survivor.''