---
Antique Beer Photos: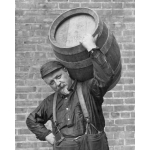 Dozens of prints available in a variety of sizes up to 40x50.

Beer History Slide Show:
Prohibition — The Noble Experiment



Image 6 of 10
John Barleycorn R.I.P. -- Beer drinkers in Meriden, Connecticut mourned the onset of National Prohibition in January, 1920 by erecting this modest monument to John Barleycorn. Headstone reads, "In Memoriam -- John Barleycorn -- Born B.C. -- Died Jan. 16, 1920 -- Resurrection?"