---
Antique Beer Photos: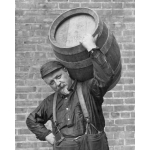 Dozens of prints available in a variety of sizes up to 40x50.

Beer History Slide Show:
Prohibition — The Noble Experiment



Image 8 of 10
Suds In The Tub -- Bath tub beer was a common concoction throughout Prohibition. This photo was probably issued as propaganda by one of the many Prohibition organizations of the early 20th century. Notice the hop vines growing outside the window!