[an error occurred while processing this directive]

---
Antique Beer Photos:



Dozens of prints available in a variety of sizes up to 40x50.
The Carling Darling
by Carl Miller
Reprinted from American Breweriana Journal.
In the annals of advertising history, there are a select handful of product slogans which—through their memorability, catchiness or sometimes just plain indefinable qualities—have achieved virtual pop-culture status. Ad agencies everywhere dream of creating such slogans, but only rarely do. The phrase "Mabel, Black Label" is among those elite few which continues to hold a prominent place in the collective memory of the American consumer decades after its use in advertising has ended.
Despite the eventual success of "Mabel, Black Label," the slogan did not make its debut with any particular promise of future greatness. Nor was it launched with any special splash or fanfare. Rather, the first use of the phrase came in the form of a simple lyric in a series of radio commercials. The Cleveland firm of Lang, Fisher & Stashower—long time ad agency for Black Label—had commissioned New York songwriters Phil Davis & Associates to compose music and lyrics for a group of radio commercials for a 1949 ad campaign. And it was in this batch of radio spots that the yet-to-be-famous line was born. Not long after the commercials began airing, it was reported from the field that Carling salesmen and deliverymen were being greeted by their customers with a hearty "Hey Mabel!" Within a matter of months, virtually every piece of advertising for Black Label was exploiting the growing popularity of the slogan, and Carling officials soon declared it "the biggest thing in beer promotion this area has ever seen."
Although the facts surrounding the creation of "Mabel, Black Label" are undisputed by those who were closest to its development, there are nevertheless a variety of somewhat colorful tales concerning the origins of the phrase. Perhaps the most often told of those stories involves a young copywriter at Lang, Fisher & Stashower. As the story goes, the recently-hired copywriter returned from lunch one afternoon and, having been discovered by his superiors to be in a decidedly drunken condition, was summarily dismissed. It was only after the copywriter had collected his belongings and departed that the phrase "Mabel, Black Label" was supposedly found typed on a piece of paper still sitting in the young man's typewriter. Of course, the simple genius of the slogan was recognized immediately, although the unfortunate copywriter was never seen or heard from again.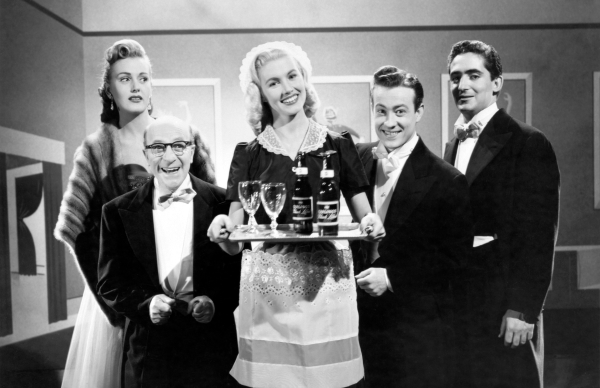 Another dubious account claims that Carling management initially saw little merit in the "Mabel, Black Label" slogan, and therefore rejected it before it was used in any advertising. According to legend, Al Fisher, co-founder of Lang, Fisher & Stashower, felt so strongly about the potential impact of the slogan that he developed a radio commercial using "Mabel, Black Label" and, without the permission of his client, aired the spot in a small Ohio town to gauge its performance. In the end, an enormous surge in beers sales in that particular small Ohio town proved the slogan's value, and Carling officials happily agreed to adopt it.
These and other equally mythical accounts notwithstanding, it is clear that the slogan "Mabel, Black Label" was a key element in the explosive growth of the Black Label brand during the 1950s. Exactly what it is about the slogan that made it so popular is a multi-faceted question. The simple fact that it was used for more than twenty years in virtually every Black Label ad—magazine, newspaper, radio or television—is certainly key. But mere repetition was only one of Mabel's ingredients. Signing-off every commercial with her charming and genial wink, the glamorous, yet wholesome Mabel won the hearts of many a Black Label drinker. As one observer put it, "Her friendly smile and knowing wink would compel any man to leave home—to fetch a carton of Carling's, that is."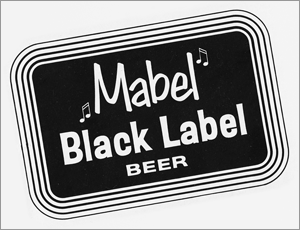 Over the years, many different actresses had the honor of playing the Mabel role. Lucille Schroeder, a receptionist at Cleveland television station WXEL, was likely the first to appear on television as Mabel. Throughout 1950, she appeared on nightly live broadcasts of the "Carling Sports Final" with host John Fitzgerald, who delivered the day's sports news from a bar stool while Mabel stood at the ready with a cold Black Label. However, it was New York actress and model Jeanne Goodspeed who was recognized by beer drinkers coast-to-coast as the Mabel of Mabels. An "Alabama belle" at heart, Jeanne Goodspeed was first recruited to play Mabel in 1951. Over the next fifteen years, she appeared in dozens of Black Label television commercials and print ads. Despite her long career as the "Carling Darling," it was a minor source of embarrassment when Cleveland newspapers noted in 1960 that Goodspeed's first visit to a Carling brewery did not occur until nearly a decade after her initiation as Mabel.
In 1965, New York-based Tinker & Associates was hired as Carling's new national advertising agency, and Mabel abruptly disappeared from all Black Label ads. Mabel's absence, however, proved to be a mere respite. After enduring fledgling sales throughout the latter part of the 1960s, Carling looked to Mabel to help turn the tide. On December 2, 1970, at a meeting of beer wholesalers in Washington, D.C., Mabel's surprise return was announced in grand fashion as a young, blond model burst through a paper bullseye and was presented with a bouquet of roses by Carling executive Bob Thomas. The new Mabel had arrived. One historian deftly summarized the circumstances of Mabel's comeback: "In late 1950, she'd saved the company; Carling was hoping she could do it again."
Unfortunately, Carling's troubles were too great for even Mabel to cure. She soon disappeared from television sets and magazine ads, never again to deliver her famous wink.

Copyright Carl Miller